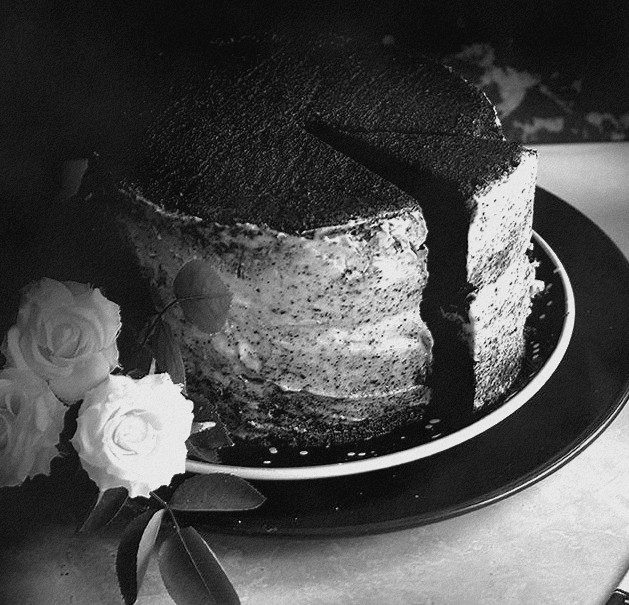 Preparation time: 35 minutes Cooking time: 35 minutes
Ingredients
For cake
3 cups all-purpose flour (390 grams)
2 1/2 cups granulated sugar (500 grams)
1 tsp salt (6 grams)
1 1/2 tsp baking powder (6 grams)
1 tsp baking soda (6 grams)
4 large eggs, room temp (224 grams)
1 cup unsalted butter, room temp (2 sticks, 226 grams)
1 cup hot water (237 grams)
1 cup buttermilk, room temp (240 grams)
1 cup black cocoa (100 grams)
For frosting
375g/13.3ozs. butter, room temperature
190g/6.7ozs. caster sugar
115ml/4flozs. water, room temperature (test on the wrist)
3/4 cup black cocoa
1 teaspoon vanilla extract
To decorate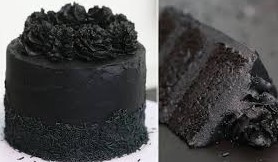 6 black cherries
6 blackberries
Purple and gold sprinkles
Step 1
– Butter and line 2x20cm/8inch round tins. Preheat oven to 160C/320F. Whisk the sugar, flour, cocoa, bicarb and baking powder in a large bowl. In a large jug measure the buttermilk, oil, and vanilla. Beat in the eggs and then the water. Mix gently into the flour mixture in 3-4 lots along with the chopped chocolate. Divide among the two tins and bake for 30 minutes
Step 2
– Fit a beater attachment to your mixer and beat the butter, sugar, and cocoa together on low speed for 1 minute and then increase it to a speed of 3 out of 10 for 3 minutes. Add the water and vanilla in at low speed and beat on the same speed (3 out of 10) for another 5 minutes or until the sugar no longer feels gritty between your fingers.
Step 3
– Trim the tops off the cakes (I made cake pops with the extras) and then slice each cake in half horizontally using a cake leveler (I am pretty hopeless at achieving a straight slice with a knife). Spread the buttercream between each layer of cake and then coat with more buttercream (the cake isn't overly crumby so I didn't really need a crumb coat)
Step 4
– Fit a piping bag with a 1A tip and fill with some of the buttercream and pipe dollops around the edge of the cake. Then top with black cherries, blackberries, and sprinkles.