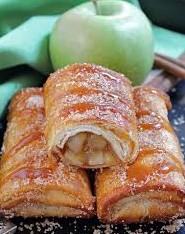 This little sweetness will make you say "how good" with every bite. Popular in the southwestern United States, chimichangas are usually stuffed with meat. Transformed into a dessert with a caramel and apple filling, this dessert will become your favorite quite quickly!
THE RETURNS……………………………………………………8 chimichangas
PREPARATION TIME…………………………………………30 minutes
COOKING TIME………………………………………………….5 to 8 minutes
Ingredients
1¼ lbs (560 g) Granny Smith (3 medium) apples, peeled and cut into ½ inch (1 cm) cubes
1 Tbsp (15 ml) lemon juice
1 Tbsp (10 g) corn starch
1 Tbsp (15 ml) water
½ cup (100 g) Brown Brown Sugar Redpath
¼ cup (60 ml) 35%
3 Tbsp. (42 g) unsalted butter
1 tsp. (5 mL) vanilla extract
½ tsp. (3 g) sell
1 ½ tsp. (6 g) ground nutmeg
¼ tsp. (1 g) ground cinnamon
½ cup (100 g) Redpath
8 granulated sugar-flour tortillas (6 in. / 15 cm in diameter)
vegetable oil for frying (such as canola, peanut or safflower oil)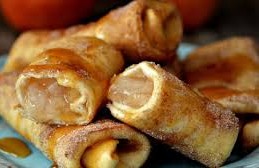 preparation
Combine the apple cubes and lemon juice in a medium bowl. Cover with plastic wrap and set aside.
Whisk cornstarch with water in a small bowl and set aside.
Combine Redpath® Brown Sugar, 35% Cooking Cream, butter, vanilla extract, and salt in a thick-bottomed saucepan. Heat over medium-high heat and bring to a boil. Cook, stirring constantly, for seven minutes to thicken the sauce.
Add cornstarch mixture and boil for three minutes.
Remove sauce from heat and add apples, ½ tsp nutmeg, and cinnamon.
Combine Redpath® Granulated Sugar and remaining nutmeg in a small deep bowl. Set aside.
Cover a cookie sheet with paper towels.
Spread a tortilla and place ¼ cup (60 mL) of the apple filling in the center. Fold the sides and roll tightly. Place the chimes at the bottom and repeat with the other tortillas.
Pour the oil into a large heavy-bottomed pan or cast iron pan at a height of ½ inch (1 cm) and heat over medium heat until the oil reaches 365°F (185°C).