Classic Italian Lasagna Bolognese with Bechamel Sauce

Lasagne alla bolognese is a traditional Emilian dish, a great classic tasty and satisfying perfect for a large dinner, with family or friends. Three basic preparations are needed for this dish: fresh egg pasta with spinach, bolognese sauce and béchamel sauce. Follow the steps of this recipe, the result will be a riot of flavors, with guaranteed success!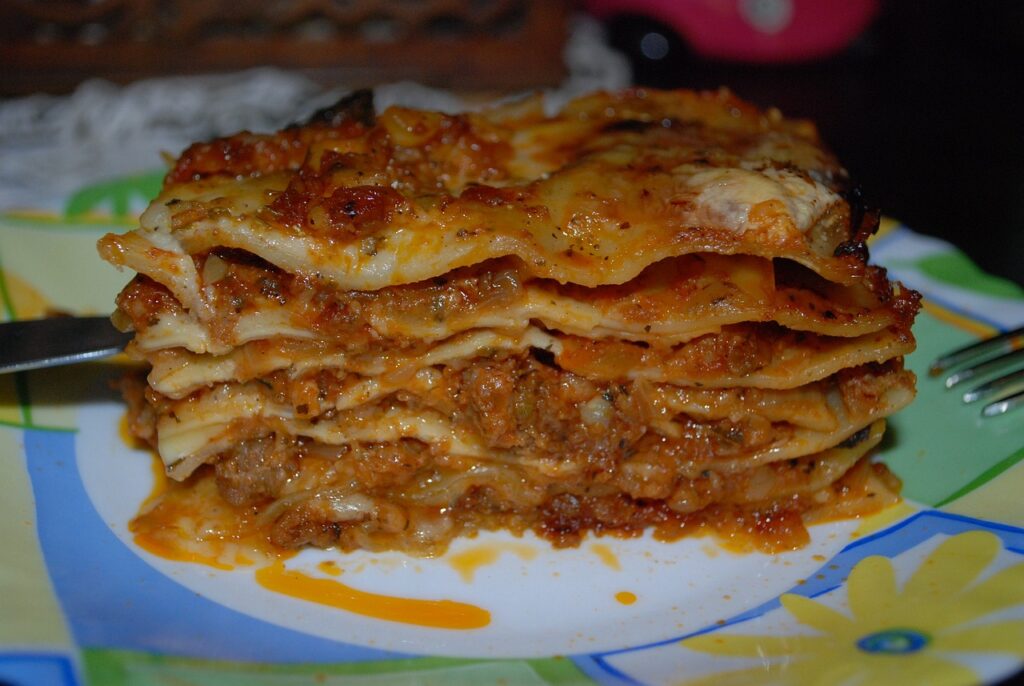 INGREDIENTS

FOR THE CONSUMER
3 eggs
350-400 g flour 00
400 g of spinach already cleaned and washed

FOR THE MEAT SAUCE:
150 g taut bacon
700 g mixed minced (pork loin and beef muscle)
90 g butter
½ dry white wine glass
300 g tomato puree
1 celery
1 carrot
1 onion
2 tbsp tomato paste
coarse salt
pepper

FOR BECHAMEL SAUCE:
1 and a half dose of béchamel sauce (go back to the recipes written in the past to see how to prepare the béchamel sauce)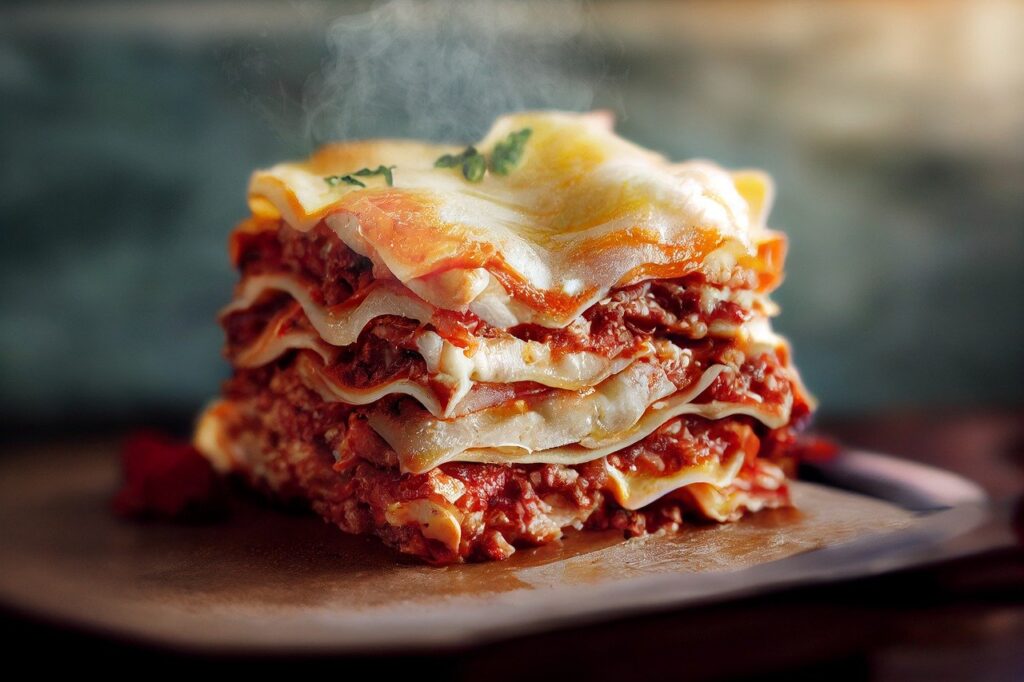 PROCEDURE:

-Heat the oil and butter in a saucepan with a heavy bottom on the fire, add the chopped onion and let it brown gently, then add the chopped celery and carrot and brown them too. Add the bacon and, after a minute, the minced meat. Saute over high heat, stirring constantly and shelling with a spoon. When it changes color, add coarse salt and fresh pepper of reel.
-Blend with the white wine, which will evaporate. Add the tomato puree and the two tablespoons of concentrate. Stir and boil, then cover and cook for about two hours over very low heat.
-In the meantime, transfer the spinach to a saucepan with a finger of water, salt and cook, slightly covered, until tender. Drain them, stop cooking under cold running water and squeeze them very well, so that they do not release water residues. Put them in the mixer and chop finely. Prepare the dough: knead the ingredients by hand or with the mixer until you get a homogeneous, smooth and elastic dough, which you will put inside a tightly closed plastic bag for food. Let stand for at least 1 hour at room temperature.
-Roll out the dough with a rolling pin on the floured surface to a thickness not too thin and, with a sharp kitchen knife or a wheel cutter, cut rectangles that must be just smaller than those of the pan. Place a large saucepan full of water on the stove and bring to a boil. Salt and add a little oil. Then boil a rectangle of pasta at a time, turning it, when it comes to the surface transfer it, helping you with a skimmer, in the bowl with cold water, drain and pat it well with a cloth.
-Place a first rectangle inside the pan to cover the bottom. Make a layer of chameleon sauce, taking care to reach the edges well and cover with ragout.
-Sprinkle with plenty of grated Parmesan. Cover with another rectangle of dough and proceed like this until the ingredients are exhausted. You will have to make in all 5-6 layers. Finish by covering everything with a last rectangle of dough, which will roast during cooking becoming crispy
-Preheat the oven to 180º C, ventilated mode. Before baking, slice the lasagna with a knife. Let them cook for about 45 minutes, or in any case until they have inflated and will be very hot even inside. Watch them frequently and, if they get too much color, cover them with aluminum foil. Remove the top layer of pasta and cook for a few minutes under the grill. Remove from the oven, let it settle for 5 minutes and serve your lasagna bologna.