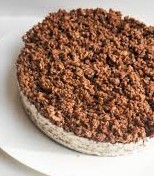 Ingredients:
2 cups (500 mL) Nutella (make your own Nutella)
6 cups (1,500 mL) Rice Krispies
16 cups (4 liters) vanilla ice cream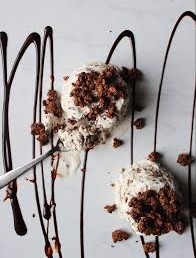 Preparation:
Place a 9-inch springform pan and a large mixing bowl in the freezer In a large saucepan, heat the Nutella with the Rice Krispies over low heat.
Remove when the Rice Krispies are well mixed with the Nutella.
Place a sheet of parchment paper on a cookie sheet.
Spread the Nutella/Rice Krispies mixture evenly and place in the freezer.
Take the ice cream out of the freezer and put it in the refrigerator.
Attendez 45 minutes jusqu'à ce que le mélange soit croquant et la crème glacée ramollie.Coupez le mélange de céréales en petit cube à l'aide d'une fourchette.
Mettez deux tasses de côté du mélange de céréales.Sortez le grand bol à mélanger du congélateur et mélangez-y le restant du mélange de céréales ainsi que la crème glacée.
Lorsque c'est fait, mettez ce mélange dans le moule à charnière de 9 pouces et compactez-le suffisamment afin qu'il ne reste plus de trou d'air.
Ajouter les 2 tasses restantes de céréales et de Nutella.Bien sceller avec un papier Saran Wrap et remettre au congélateur pour passer la nuit (ou pendant 4 à 6 heures).Sortir du congélateur 30 minutes avant de servir.