Steak in Creamy Cajun Shrimp Sauce (Surf and Turf)
Ingredients:
45 ml (3 tsp) basil oil
10 ml (2 teaspoons) Cajun seasoning
1 lb steaks
1 large green or red bell pepper, seeded and cut into quarters
Large bag of shrimps ????
1 clove minced garlic
1 chopped tomato (about 250 ml/1 cup)
250 ml (1 cup) milk
1 Pack Knorr Sidekicks Fettuccine Alfredo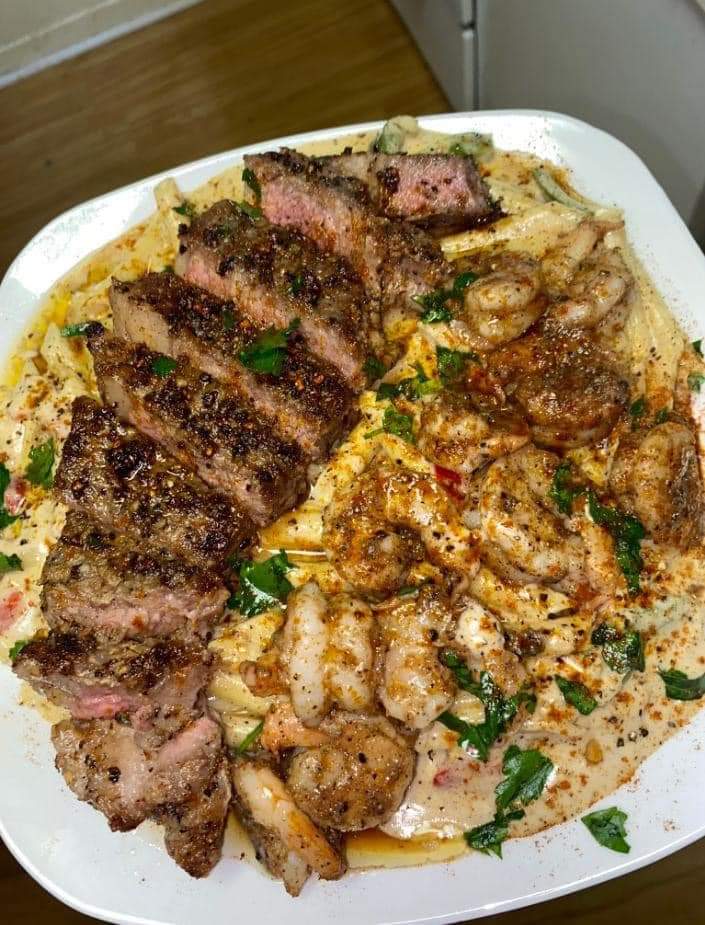 In a medium bowl, mix 30ml (2 tablespoons) Becel® Oil and Cajun seasoning. Add steak and pepper. Toss to coat.
Roast or grill, flipping once, until steak is cooked through and vegetables are cooked through about 6 minutes. Cut vegetables and steak into slices. Reservation and heating.
Heat the remaining 15 ml (1 tablespoon) of oil in a medium saucepan over medium heat and cook shrimps stirring frequently, until golden, about 3 minutes.
Adding garlic & cooking, stir constantly, to fragrant, 30 sec.
Add tomatoes and cook, stirring occasionally, until softened, 2 minutes.
In the same saucepan, add 175 ml (3/4 cup) of water and milk and bring to a boil over high heat. Stir in Knorr Sidekicks Fettuccine Alfredo and bring to a boil again. Reduce the heat to medium and leave covered, stirring constantly, for 8 minutes, until the pasta is cooked.
Serve steak and pepper with pasta.