5 Delicious Halloween Cookies
This year he's trading candy bought for delicious Halloween cookies. A plan you can make as a family and start enjoying the most spooky night of the year in advance. For you to choose we leave you traditional options, gluten-free and sugar-free to get a healthier diet.
1.Eye to the cookie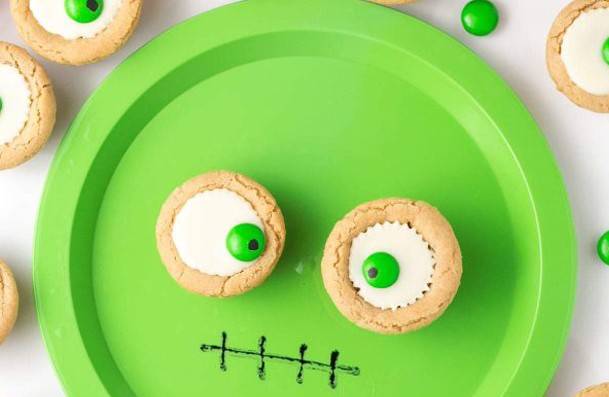 Make a homemade butter cookie with a white chocolate heart. An irresistible candy that will become the most desired of your Halloween party.
Ingredients
1 egg
150 g of flour
Yeast
50 g butter at room temperature
125 g sugar
Essence of vanilla
1 pinch of salt
Chocolates made of white chocolate
Green Chocolate Chocolate Buttons
Edible black marker pen
Preparation
Preheat oven to 180ºC.
Mix the butter with the sugar.
Add egg and vanilla essence to taste. Beat until creamy texture.
Sift the flour. Pour the mixture together with a pinch of salt and a teaspoon of yeast.
Knead and place on some muffin molds.
Put in the oven for about eight or ten minutes, until the cookie is made.
Remove and press the center to leave a hole to put the chocolate white.
Place a green chocolate button in the middle.
Put in the fridge so that the chocolate, which will have started to melt, takes back consistency.
When completely hardened, paint the pupil with an edible black marker.
2.Sugar-free and gluten-free witch fingers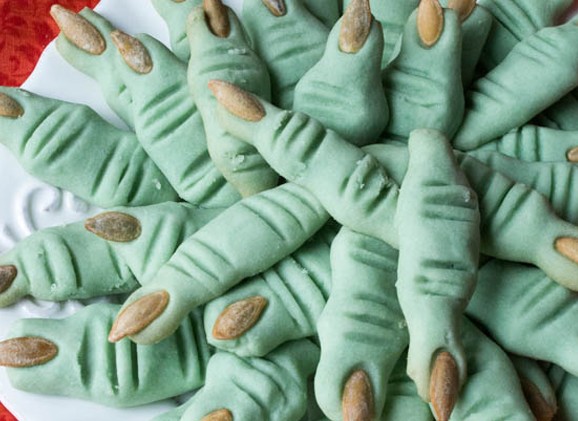 Despite their appearance, these sweet fingers will charm the greedy ones. A gluten-free and sugar-free recipe.
Ingredients
One cup butter at room temperature
Stevia
3 tablespoons of milk
1 teaspoon of vanilla extract
1 teaspoon of green dye
1¼ of gluten-free flour
Pumpkin seeds
Preparation
Put the oven at 170ºC.
Mix the butter with a little stevia until smooth. The level of sweet will depend on the concentration of the sweetener.
Gradually add the flour until it is incorporated.
Add the green dye until you get the color you like.
Line a tray with baking paper and roll the dough into balls.
Roll the ball between your hands, as if you were churros until you get the desired thickness for the finger.
Flatten a little and shape the different parts of the limb.
Do your fingernails with pumpkin seeds in the shell.
Bake for 30 minutes.
Let it cool and you'll have your Halloween cookies ready to eat.
3.Salty Halloween Cookies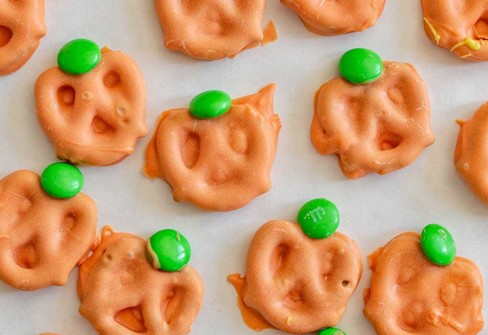 Making this recipe will only take a few minutes and the children will love the combination of sweet and salty in one bite.
Ingredients
White chocolate for melting
The orange food coloring agent
Pretzel
Orange Chocolate Chocolate Buttons
Preparation
Melt white chocolate in the microwave stirring every 30 seconds.
Add a few drops of food coloring and mix to take a uniform color.
Dip the pretzels in the melted chocolate.
Using a fork, remove them from the bowl and let them drain.
Place them on a baking sheet and decorate them with a green chocolate button on top.
Let the chocolate harden well and serve.
4.Stuffed Halloween cookies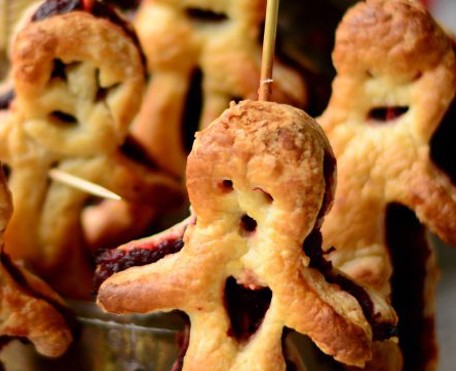 Make a biscuit sandwich made of pastry and jam.
Ingredients
1 package of puff pastry
5 tablespoons of vegetable milk
Jam
Preparation
Unfreeze the puff pastry according to the package instructions, but only until the dough is flexible (so it doesn't break).
With a stencil made of vegetable paper or a doll-shaped cookie cutter, make the shape over the puff pastry.
Place the figures on a baking sheet and apply them lightly with a roll.
Spread the jam and cover with another doll, like a sandwich.
Help yourself from the tip of a knife to make the eyes, mouth and other bloody details in the body.
Pinch the edges of the doll so the stuffing comes out
Brush the dolls with milk.
Put them in the oven, which should be warm, at 200ºC, for fifteen or twenty minutes until they are golden brown, a little swollen and crunchy.
5.Frankenstein without gluten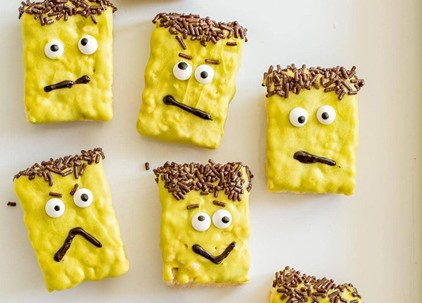 Prepare a special prescription for celiacs by following these steps. You'll learn how to make monsters with a gluten-free crunchy rice cereal base.
Ingredients
1 tablespoon of butter
6 cups of mini marshmallows
6 cups gluten-free crunchy rice cereals
Gluten-free white chocolate
Coeliac-grade edible marker or chocolate pencil
Gluten-Free Chocolate Noodles
Preparation
To make the crispy rice blocks place in a microwave-safe container a tablespoon of butter and marshmallows.
Melt everything stirring every minute until a liquid consistency remains.
Pour the crispy rice.
When the rice is well covered, spread it out on a tray lined with baking paper and lightly oiled. Let cool.
Microwave the white chocolate by stirring every 30 seconds.
Add the yellow dye and mix.
Allow cooling before cutting equal portions with a saw knife.
Dip in the dyed chocolate.
Use gluten-free chocolate noodles to make hair.
The rest of the decoration can be created with an edible marker or with a chocolate pencil suitable for celiacs.
If you dare to continue cooking for the Day of the Dead celebration, in addition to these Halloween cookies you can also make fun and healthy homemade sweets or some terrifying cupcakes.