Mini cupcakes or sweet canapes
In our mini cupcakes or sweet canapes recipe, you will find many ideas to improvise dessert sandwiches with simple and homemade ingredients.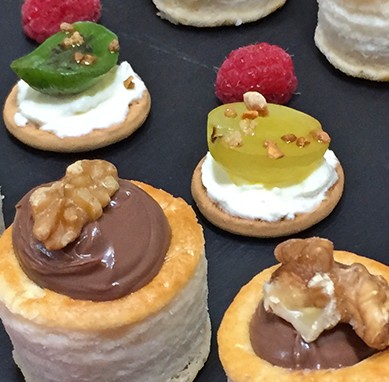 Ingredients :
Packed dumplings, puff pastries or breeze pastries
Mini cookies Maria
Nutella
Pastry cream
Whipped cream cheese with sugar (1 tablespoon for a 150 g jar)
Chopped nuts
Miscellaneous fresh fruit cut into pieces
Preparation :
As you can see in the photos we have used only small return puff pastry, of those that sell packaged, and mini-cookies. You can also use mini puff pastries or Brisa pasta.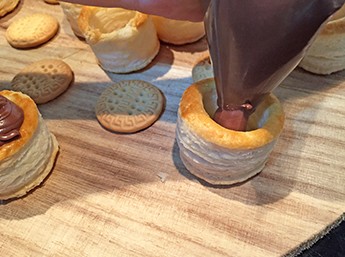 For the Nutella volovans, we put the chocolate cream in the microwave for a few seconds in a suitable container. These are to make it easier for us to use. Then we put them in a pastry bag and fill the volovans. Decorate with some nuts or hazelnuts.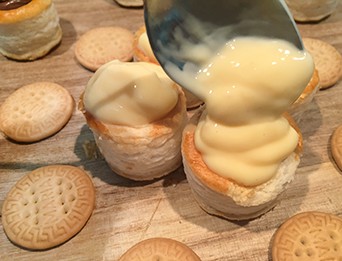 For the cream volovans, we make a simple pastry cream in the microwave, and fill the remaining volovans, decorating on top with some cut fruits, such as grapes, cherries or kiwis.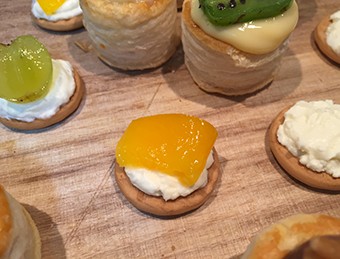 For mini cookies we need a more consistent cream, so we use cream cheese. Sweeten the cream cheese to taste, spread the biscuits and decorate with some fruit slices (grapes, cherries, kiwis, peaches…) and some chopped almonds.
When you have them assembled, you should keep them in the fridge until serving time.
To improve the presentation present them in a tray combining shapes and colors.