Big Mac Salad [Burger Salad with Keto Cheese]
Try this cheeseburger salad when you feel like one of the famous fast-food burgers. It's easy to put together this low-carb burger salad at home. Course Salad American Cuisine Keyword ground meat Preparation time 10 minutes Cooking time 10 minutes Total Time 20 minutes Servings 8 people Calories 273kcal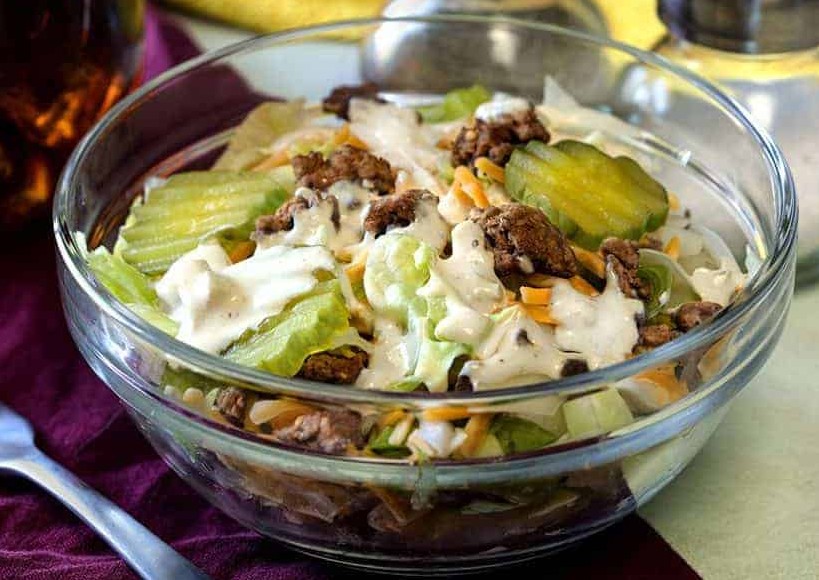 ingredients
Salad:
1 1/3 pounds of ground beef about 600 grams
1/2 small onion, chopped (optional)
4 finely chopped garlic cloves
1/8 teaspoon of thyme
1/4 teaspoon ground oregano
1/4 teaspoon of marjoram
1/8 teaspoon chili (optional)
12 ounces of green lettuce
2 spears dill pickles in cubes
3 small sliced tomatoes (optional)
3/4 cup freshly grated cheddar cheese
1 small red onion sliced (optional)
Salt and ground black pepper to taste
1-2 tablespoons olive oil to saute
Garnish:
2 tablespoons of tomato paste
3 tablespoons of water
1/3 cup of mayonnaise
1/4 cup sour cream
1/8 teaspoon ground sage
1/8 teaspoon ground oregano
1/8 teaspoon dried basil
1/8 teaspoon cayenne pepper (optional)
low carbohydrate sugar substitute (if desired)
salt and ground black pepper to taste
Instructions
Bandage:
Dilute tomato paste in water and add some sweetener (if desired). Add mayonnaise and sour cream. Season with sage, oregano, basil, salt, and black pepper. Mix well and let stand.
In a lightly oiled skillet, sauté onions until translucent. Add garlic and sauté for a few minutes without burning. Add the ground lean meat and then season with thyme, oregano, and marjoram. Sprinkle salt and pepper to taste. Add some chili to heat. Completely cook the beef. Transfer to a dish lined with kitchen paper. Set aside.
Salad:
Cover the bowl with vegetables. Place the cooked beef, chopped vegetables: lettuce, tomato, red onion, pickled pickles and top with cheddar cheese. Sprinkle with the dressing. Enjoy!