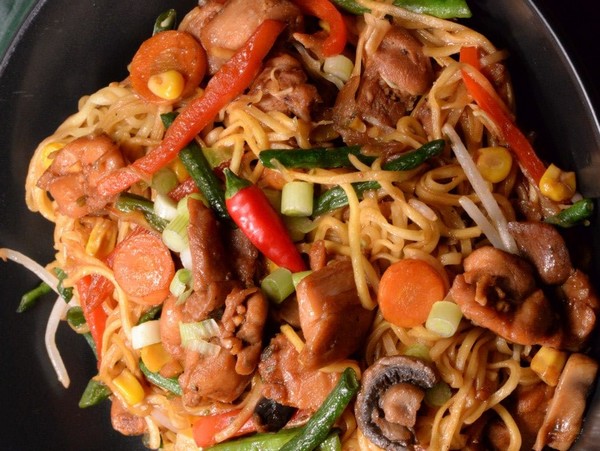 Chow Mein – A favorite and cherished delicacy of many Guyanese. This tasty dish was introduced to Guyana by the Chinese who arrived in 1853. Almost everyone loves this food; it is cooked simple and eaten on a daily basis while on special occasions it is cooked fancy and elaborate with various spices, meat, and vegetables. It is quite famous since most local cookshops always seem to have chow mein on their menu. As you read, you'll find out more about this unique and delicious meal.
INGREDIENTS
1 pk dried Chow mein noodles
1½ lbs. boneless chicken thighs
1 small onion (thinly sliced)
3 tbsp. oil
1½ mixed (red, green, yellow) bell peppers (thinly sliced)
2 cups frozen mixed vegetables or
1 carrot (julienne)
1 cup petite green beans (cut into 2-inch pieces)
1 cup fresh or canned sweet corn
½ head of broccoli (speared)
½ head of cauliflower (speared)
⅓ green cabbage (thinly shredded)
5 scallions( finely chopped)
Of course, you can use whatever vegetables you like!
1 wire-with pepper and remove after cooking for a little heat.
To Season the chicken:
1 tbsp. dried thyme
1 tbsp. cassareep or soy sauce
3 cloves of garlic (chopped)
1 tsp. brown sugar
1 tsp. salt
1 tsp. mustard
¼ tsp. ground black pepper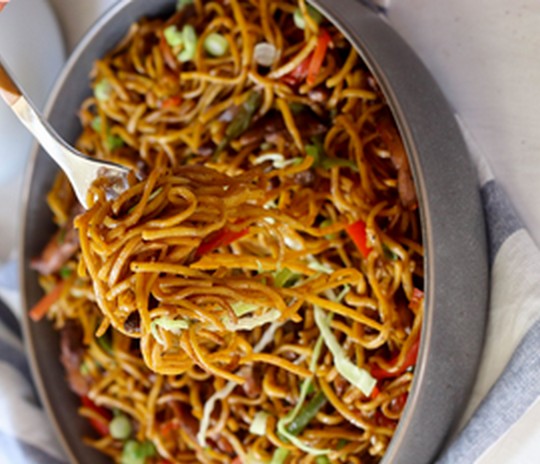 INSTRUCTIONS
Cook chow mein noodles according to directions and set aside.
Season chicken with garlic, ginger, 2 tbsp soy sauce, and 5 spice powder. Mix well to coat evenly.
In a large frying pan or wok, add 1 tbsp canola oil. When the oil is hot add chicken and cooks on high for 5-7 minutes. Add peppers and onion to the pot and stir fry for an additional 3 minutes.
Add remaining 1 tbsp of soy sauce and black pepper to the chow mein and mix using a large fork to coat the chow mein with the soy sauce. Add chicken and vegetable mix to the chow mein and repeat. Mix until well coated then taste to see if additional salt is needed.
Add 1 tsp oil to the pan or wok and fry chow mein in 2 batches. Combine, then add scallion. Serve with thinly sliced green cabbage.
PREP TIME……………………….15 mins
COOK TIME……………………….20 mins
TOTAL TIME………………………35 mins
Author: International Cuisine
Recipe type: Main Dish
Cuisine: Guyana