Hot Cross Buns recipe for Easter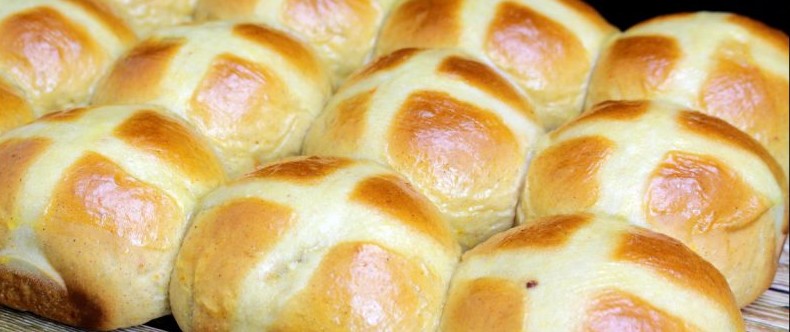 The so-called hot cross buns are slightly sweet spicy muffins, typical during Holy Week in Anglo-Saxon countries, traditionally prepared on Good Friday. Although their origin is not entirely clear, as it seems to go back to pre-Christian times, they are very popular and associated with various superstitions.
The recipes can vary a lot depending on the source, but if something characterizes these muffins it is the cross that adorns them, which symbolizes the crucifixion and is thus identified with Good Friday. I have adapted a recipe by Richard Bertinet, and although it seems long, it is not very complicated to elaborate. You can adjust the number of spices and raisins to your taste, or even add other nuts.
Ingredients
For up to 12 units
Flour of strength 500 g
Warm milk 250 ml
Egg L 2
Heated butter 55 g
Sugar 50 g
Fresh yeast from the bakery 15 g
Salt 1/4 teaspoon
Ground cinnamon 1/2 teaspoon
Ground nail 1 pinch
Ground nutmeg 1 pinch
Lemon zest 1 pinch
Dried grapes of Corinth 80 g
Wheat flour for decoration 100 g
Water (approx.) 100 ml
Sugar for icing (optional) 100 g
Water for glazing (optional) 100 ml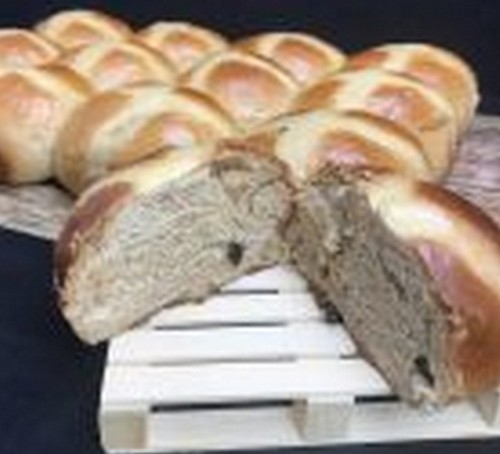 How to Make Hot Cross Buns
Difficulty: Medium
Total time……………………………………………………1 h 5 m
Preparation……………………………………………………..45 m
Cooking…………………………………………………………….20 m
Rest………………………………………………………………………3 h
Crumble the yeast in warm milk and leave to stand for 15 minutes. Place flour in a large bowl and mix with salt, spices and lemon zest. Form a hole in the center and pour the egg and the chopped butter. Beat lightly, add the milk with the yeast and mix. Add the raisins and start kneading, by hand or using a mixer, until a smooth, elastic and homogeneous dough is obtained. Form a ball and place in a clean bowl lightly greased, cover with film or a damp cloth and let rise until double its size in a place without draughts. Deflate the dough slightly and divide it into about 20 equal parts. Knead a little each, form small balls and place them on a greased baking tray. Beat the remaining egg in a bowl with a little milk and gently brush the rolls. Cover with a damp cloth and let rise until they are twice their size.
Preheat oven to 190ºC. Prepare the decoration paste by beating the flour with enough water to achieve a consistency that can be arranged with a pastry bag. When the scones are ready, brush again with the beaten egg, form a cross with the pasta over each and bake for about 20 minutes.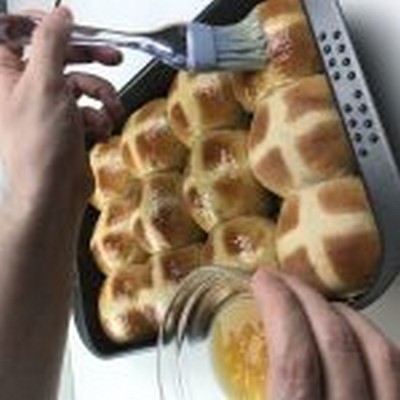 Meanwhile, heat the water with the sugar to form a syrup. Let the rolls cool on a grate and brush with the syrup while they are hot.
With which to accompany the hot cross buns
Good Friday muffins are delicious by themselves, freshly made, still warm. As they are not very sweet, they are ideal to taste with butter, jam or a slice of creamy cheese and honey. They hold out a tender for a couple of days, but if they are going to be leftover I recommend freezing them once cold to enjoy them throughout the week.